Modern User Interface
A rapid user interface created for contemporary inventory management. Obtain more work completion with less effort with or excluding barcode scanners.
Blanket Order Agreement
At a negotiated price purchase goods from a supplier , on a repeated basis throughout a particular duration.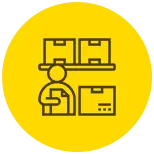 Create RfQs For Your Suppliers
Configure every product to transmit Requests for Quotations to your suppliers.

Automate Ordering
Establish procurement regulations to automatically order the essential items depending on least quantities per location, stock levels, or per supplier, sales, or different framework.

Define Procurement Rules
Mention every supplier spreading the item, order them by precedence, and record their time of delivery and least quantity to save a little time on fresh orders.

Automatic Reconciliation Between Companies
Save enormous amounts of time and work on every transaction done among your group's companies - automatically the transactions are reconciled in every module, for instance, mirror sales orders automatically and purchase orders in many-company establishments.