What Are The Odoo App
Odoo software is a business management software that permits you to handle every department of the company in one location. Let's see what are the odoo app;

Accounting Odoo App
---
Odoo's accounting application permits you to build invoices, impede supplier invoices, etc, as it is in sync with bank statements.

Odoo Website Design App
---
With Odoo it is simple to design and build websites merely with the capability to drag and drop and establish CTAs, contact forms and tracking tools.

Odoo Point of Sale App
---
It is utilized on numerous terminals (tablets, industrial machines, laptops,and permits to establish loyalty programs and supervise inventory management.

Odoo Project Management App
---
With the odoo apps Project management is performed by monitoring in a contemporary interface that permits you to organize tasks, deadlines, schedules and plan and examine by following global workload.

Odoo Sales App
---
Odoo permits you to create online quotes from the proposition to the signature: establishment of templates, transmit to the customer, online payment, e-signature.

Odoo Warehouse APP
---
Odoo's inventory app enables you to maximize warehouse organization, establish automatic refilling and track every movement of inventory.

Odoo Ecommerce App
---
With the odoo ecommerce apps it is simple to establish an online store and incorporate it with the rest of your odoo apps like invoices, sales and stocks.

Odoo Human Resource App
---
With Odoo human resource app build an Employee Database, handle the hierarchy of organization, administer departments and allocate access rights, hold staff attendance, leave and cost management.
Odoo Manufacturing App
---
With Odoo Manufacturing App you can track work orders, handle manufacturing orders, determine Raw Materials for your finalised products, manage and schedule Bills of Materials with Calendar Integration.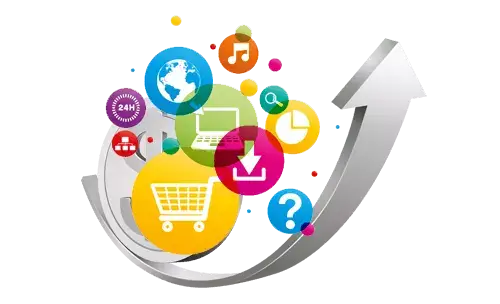 Odoo Marketing App
---
In Odoo the automation marketing incorporated allows to build automatic campaigns, produce customer paths, automate email sending.

Odoo Purchase APP
---
With Odoo's purchase application it is easy to manage all suppliers and purchase orders.
How Odoo Apps Can Helps You
The ERP that one chooses will describe the ethics, elements, and road maps that handle extraordinary usage. Once you select and carry out a pre-prepared solution, then you are probably to incorporate growth and implementation. There are several similar solutions, however Odoo is perhaps the best ERP accessible in the market. Choosing an Odoo Solution will assist your organization flow and collect Odoo development technologies. Moreover, Odoo E-commerce businesses provide powerful software that manufactures the merchants to get extensible business. Odoo ERP is accordingly advantageous for the retail industry. It removes all difficult, prolonged tasks, getting the management's load, which is necessary to collect profits and build product sales.
Financial transactions for the mercantile sector are distributed by the payment Gateway schemes which incorporate transactions like credit card, electronic funds transfers and (EFT) recurring . Every system which is correctly incorporated will obtain transaction details at the purchase points using key entry or card swipe, which will be transferred to the payment gateway system. A reply will be considered at the point of purchase one time the system processes authorization or decline of the transaction. It's extremely simple to incorporate payment gateways in Odoo with just primary knowledge of python programming and elementary incorporation skills and formats.
The Odoo / Open ERP shipping management module allows the companies to perform the processes expertly using the management and organization of their clientele and supplier goods. In Odoo, you may build automated invoicing relying on the deliveries. It enables the firm to create packing slips for the company. The packing slip can be generated once the customer sanctions the selling order. Prior an order has been transmitted for delivery to the shipping branch in a manner of trade or manufacturing operation, Odoo instates a one-step distribution process, in which every single product is created accessible from the supplier and ultimately delivered in mass using a single order.
Who Uses Odoo App
Companies of every sort are shifting to Odoo to make it simple to administer each and every element of their company. In specific, Odoo is well-known for retailers, eCommerce sites, tech companies, manufacturing facilities, higher education institutions, construction businesses and marketing companies. The wide array of accessible tools, apps for general business aims like finance, HR, marketing, communication,sales, operations and websites means that Odoo is perfect for businesses in very much any industry.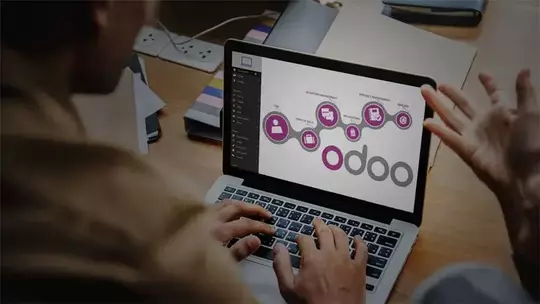 How Odoo Apps Can Benefit Your Business
Odoo launches a new version of ERP software almost every year integrating new technologies and software assistance to handle developing business needs. Odoo team improves current applications and presents new applications to assist business enterprises.
1. Increase Your sales
Odoo Apps helps in making the quotations, enhances communication between the buyer and the seller , offers user-friendly point of sale and helps in tracking leads, closing opportunities and getting appropriate forecasts.

CRM
Odoo allows you to make better decisions by using actionable data. Schedule activities depending on your script of sales: meetings, mailing, quotations and calls. You can even gather all the information you require, straight on the opportunity: mail received, website pages viewed, etc.

Point of Sale
Odoo POS offers everything your shop needs. Odoo POS relies on a smart interface that every retail company can utilize without trouble. Since it's extremely flexible, you can structure Odoo POS to satisfy your exact requirements.

Sale
Odoo sale app helps in sending clear and entire quotations to your prospects. Include product descriptions, attractive images, and added details easily by dragging and dropping building blocks.
You can transform quotations into sales orders with a one click, or allow the customer to sign on it with an easy electronic signature.
Invoice customers depend on time and materials, smoothly record contracts and follow invoicing phases, hold renewal and upselling possibilities, and handle your subscriptions. The customer portal gives access to your customers to their sales orders, delivery orders and quotations. Utilize Odoo Sign and save time by getting the signatures easily on contracts, NDAs, or any PDF document.
The customer portal gives access to your customers to their sales orders, delivery orders and quotations. Utilize Odoo Sign and save time by getting the signatures easily on contracts, NDAs, or any PDF document.
2.Interconnection Between Services
There are services which are interconnected and Odoo apps help the business to perform them efficiently. With the help of odoo development services you can implement it in your business and enjoy its benefits.

Project
Odoo apps helps you use a modern interface, where you can adjust the project as per your need.
Organize it neatly and efficiently to overview the project
Maintain a track of the deadlines with a clear calendar view.
Assign the required time to particular tasks under an intended shift.Create reports and execute analyses.

Timesheet
With the help of Odoo app you can track the time and productivity accordingly. Either you're operating a small business, or you are a freelance professional, or even handling employees from diverse locations, you require tools to be as mobile as you are. The Odoo mobile app that works the way you do and you can handle the work from anywhere. From task management, time-tracking, to weekly timesheets, it becomes easy to perform these activities with one app.

Helpdesk
Odoo helpdesk app offers an amazing user interface and lets you Track, prioritize, and solve customer tickets. You can even organize your tickets the manner you wish with the astonishing kanban view. Obtain an immediate overview of your team's volume of work and monitor the status of a ticket depending on your custom bespoke SLA rules.
3. Relation between Operations
Odoo helps in maintaining the relationship between the operations by offering an easy method to work in a systematic manner. No confusion, No conflict and No Counter arguments.

Inventory
Odoo App helps in enhancing the performance and process time. With the smart double entry inventory system you can organize your warehouse effectively. Obtain the most competent stocking method and enhance all your internal operations. It has no input, output or transformation of stocks. Rather, all activities are stock moves among locations.

Purchase
Odoo apps improve your supply chain and inventory performance by easily managing purchase orders and suppliers. Enhance your purchase performance with acquisition rules relying on logistic rules, sales orders, stock levels, forecast manufacturing orders, etc. Choose various replacement ways for each product subject to your delivery and manufacturing strategies.
4. Odoo App To Build your websites
With the Odoo app you can easily build your website without much effort. It helps in giving you plenty of options that you need to consider while creating a website through it and you are done.

Website Builder
---
Build your website easily with shapes and get live chat, Build-in customer portal, multi-language, SEO within the app. You just need toi drag and drop and create a business website. By editing everything online, you get a sense of control that you have never felt with any other tool.

E-commerce
---
With Odoo app you get a modern open source online store that is equipped with amazing product pages and it's mobile friendly. You can create custom pages to showcase your customers in no time. With an incorporated eCommerce platform, sales and inventory can smoothly be retained via automatic stock adjustment and reporting. Committed customer portals assist in maintaining customer data organized with order claims and tracking, permitting customers to download delivery orders and invoices.
Odoo App Development - Security
With Odoo app the customer passwords are protected with industry-standard encryptions.
Every Odoo Cloud server is operating hardened Linux distributions with updated security patches.
Odoo app never stores any credit card details. On their system.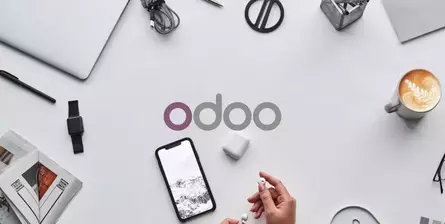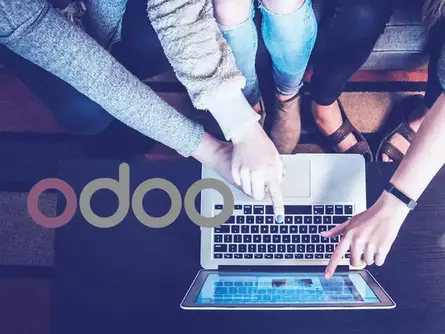 Odoo App Integration - Security
When you integrate Odoo app in your business you get
Database Security


The storage of customer data is done in a dedicated database with no sharing of data among clients. Data access is administered with rules that execute total isolation among customer databases operating on the similar cluster, no access is feasible from one database to other.

Staff Access


Helpdesk staff of Odoo might sign into your account to access settings associated with your support problem. For this they utilize their own particular staff identification, not your password .

Communication
Every data communications to customer samples are secure with state-of-the-art 256-bit SSL encryption (HTTPS).
Why Choose Kalibroida for Odoo App Development
Every module of Odoo has a special characteristic for your organization. It also assists in numerous business methods, prediction planning, and needs. ABC, a skilled Odoo Gold Partner can lead you in the execution of the Odoo solutions both on a technical or business field. We offer innovative Odoo custom solutions to the company with our extensive services like Odoo Development, Customization, Implementation, Consulting, and Maintenance & Support. With our enormous enterprise experience, we offer end to end personalized solutions & services for Odoo ERP.
Global Mindset
We act and think globally. We comprehend your requirements and how to meet them successfully. This global-local mindset has turned into the most profitable and economical approach for everyone included.
ON Time Delivery
We communicate and work together without delay to make the client positive and comfy with our services. One thing we never undermine at any cost is On-time delivery.
Competitive prices
At Kalibroida, you obtain the product that is worth your money. We offer premium solutions at the most inexpensive prices. Our affordable and trustworthy services guarantee that you acquire the utmost ROI.
FAQS
Firstly Log in to the Odoo administration panel and click "Apps" on the top menu bar.
Then in the Apps menu, you will notice the Odoo plugin catalog. Explore for the plugin you wish to install.
Now you will see the "Install" button in the plugin Click it if you desire to enable it.
Yes, you never pay for it as it is an open source program.
The application development starts from $10,000 to a lot as per the features and technologies you will wish to have into your Odoo app. The more ease and features ,the higher the price.
1. Account admin tool
2. Early payment discount
3. Partner personal accounts
4. Account admin
5. Cash statement
And many more.
There's no prelimited time for the development of an Odoo enterprise solution. It differs broadly subject to the sort of solutions and the design components you require.