Priorities Actions
Effectively prioritize the follow-up activities that are there in the pipeline and fulfill your targets

Monitor your sales activities
Monitor the sales stages smoothly and successfully with the sales pipeline Kanban view.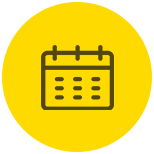 Schedule Meetings
With the Odoo CRM software you can easily and directly schedule the from the opportunity of customer
Dashboards
Obtain all the compulsory information of 'in progress' and 'accomplished enterprise activities' in your Dashboard

Get connected with customers
It keeps interaction with customers through email, chat, phone,and social media inside your Odoo CRM.

Leads Promotion
Begin campaign by auto-generated emails to clients in Leads.
Allocate a salesperson to track the lead and market it to you.

Opportunities Analysis
In this, with advanced filters, grouping, drill-down, etc, you can examine your possibilities using a Odoo CRM pipeline.

Lead Scoring
Score your leads, assist explicit and implicit standards and evaluate which lead fulfills the criterion to turn into an opportunity.

Customized Alerts
Establish custom alerts for possibilities assisted several activities

Analyze Opportunity lost
Examine the explanations, tail the loss of possibilities and enhance your sales strength.

Automate routines and Focus on sales
It automatizes your regular business action, so there is no requirement to waste your time maintaining data.